Lauterbach Announces Free Debug Support for Arduino® Nicla Vision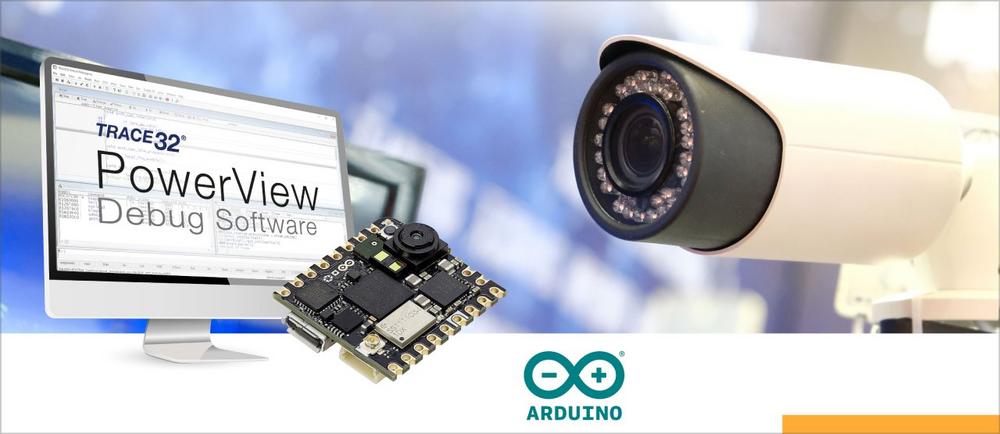 Lauterbach's TRACE32® development tools now support Arduino's Nicla Vision, a ready-to-use, standalone camera for analyzing and processing images on the edge, without the need for hardware debug-modules. Students, makers, and all other Arduino® customers can simply download and use the TRACE32® PowerView debug software for free.
The Nicla Vision features an ST Microelectronics STM32H747AII6 Dual ARM® Cortex® – M7/M4 core microcontroller, which can be clocked up to 480/240 MHz. Thanks to its 2 MP color camera, smart 6-axis motion sensor, integrated microphone, and distance sensor, it is suitable for asset tracking, object recognition, and predictive maintenance. The integrated WiFi®/Bluetooth® LE connectivity supports the transmission of data that are collected from sensor nodes to the Arduino® Cloud or third-party vendor services.
Lauterbach's universal TRACE32® PowerView Software enables software debugging of the Cortex®-M7 core over a USB cable without the need for additional hardware modules. Students, makers, and all other Arduino® customers can simply register on Lauterbach's website and then download and use the PowerView software for free. There are no limitations in terms of code size and time of usage.
"The maker platform Arduino has always enjoyed great and still growing popularity", says Norbert Weiss, Managing Director at Lauterbach GmbH. "We are happy to support Arduino's large community to enable even more innovative ideas and projects."
Lauterbach's TRACE32® PowerView software enables developers to evolve applications based on Ardunio® devices, even faster and easier.
Registration for free PowerView download: www.lauterbach.com/…
Download of the full-featured PowerView software for Arduino PRO: www.lauterbach.com/…
A tutorial how to debug Arduino® Nicla Vision with TRACE32® is published here: https://docs.arduino.cc/…
Über die Lauterbach GmbH
Lauterbach is the leading manufacturer of cutting-edge development tools for embedded systems with more than 40 years of experience. It is an international, well-established company, serving customers all over the world, partnering with all semiconductor manufacturers and growing steadily. At the headquarters in Hoehenkirchen, near Munich, the engineering team develops and produces highly proficient and specialized, easy-to-use Development Tools under the brand TRACE32®. Branch offices in United Kingdom, Italy, France, Tunisia, on the East and West coasts of the United States, Japan and China and highly qualified sales as well as support engineers in many other countries make Lauterbach's full product range available worldwide.
For more information please visit http://www.lauterbach.com/
Firmenkontakt und Herausgeber der Meldung:
Lauterbach GmbH
Altlaufstr. 40
85635 Höhenkirchen-Siegertsbrunn
Telefon: +49 (8102) 9876-0
Telefax: +49 (8102) 9876-999
http://www.lauterbach.com
Ansprechpartner:
Evi Ederer
Marketingassistentin
Telefon: +49 (8102) 9876-182
Fax: +49 (8102) 9876-187
E-Mail: evi.ederer@lauterbach.com
Für die oben stehende Pressemitteilung ist allein der jeweils angegebene Herausgeber (siehe Firmenkontakt oben) verantwortlich. Dieser ist in der Regel auch Urheber des Pressetextes, sowie der angehängten Bild-, Ton-, Video-, Medien- und Informationsmaterialien. Die United News Network GmbH übernimmt keine Haftung für die Korrektheit oder Vollständigkeit der dargestellten Meldung. Auch bei Übertragungsfehlern oder anderen Störungen haftet sie nur im Fall von Vorsatz oder grober Fahrlässigkeit. Die Nutzung von hier archivierten Informationen zur Eigeninformation und redaktionellen Weiterverarbeitung ist in der Regel kostenfrei. Bitte klären Sie vor einer Weiterverwendung urheberrechtliche Fragen mit dem angegebenen Herausgeber. Eine systematische Speicherung dieser Daten sowie die Verwendung auch von Teilen dieses Datenbankwerks sind nur mit schriftlicher Genehmigung durch die United News Network GmbH gestattet.