Acquisition of Zero Time A330-300 interiors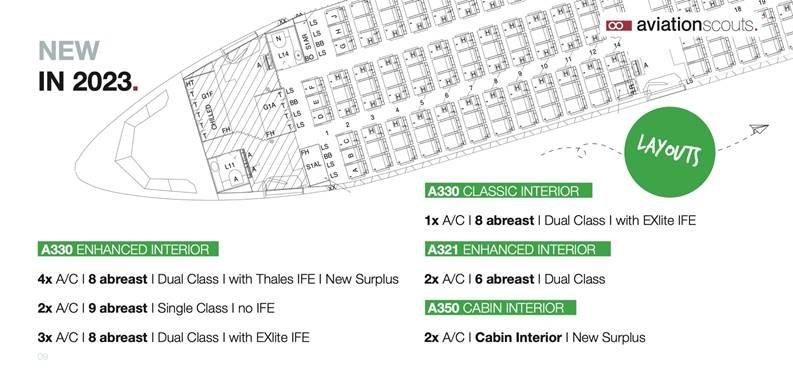 Building on its 2022 momentum as the premiere aircraft cabin interior sustainability champion, aviationscouts GmbH is proud to announce the acquisition of 4 Airbus A330-300 interiors.
The owner of these NEW aircraft decided to convert them for Cargo rather than Passenger operations resulting in the removal of brand-new interiors that never flew passengers.  These interiors offer a special opportunity for future cabin reconfiguration as the components are all the latest standard and are in perfect condition. The first removals have begun and will continue through 2023.
Some highlights of these interiors are the Thales IFE system as well as the Y Class Recaro 3710 seats pictured in below link.
With this stock, aviationscouts will count 10 new widebody interiors added this year as well as multiple sets of A350 and A321 Aircraft interiors.
Come and meet the team of aviationscouts celebrating its 25th anniversary on its new and larger booth #7B74 in Hall B7 at Aircraft interiors Expo in Hamburg!
Pictures available at: https://www.aviationgate.com/aircraft-interiors/recaro-cl3710av94-series-economy-class-o220528.html
Über die aviationscouts GmbH
aviationscouts GmbH is a market leader in surplus seats and cabin interiors and the operator of the online market place "aviationgate.com".
We are 25+ years in business, EN9100 certified and work with qualified EASA/FAA Part-145, 21J and 21G partners to support cabin modification programs as a 1-Stop-Shop. For this purpose, we source, purchase, store, overhaul, and resells aircraft seats and interiors to Airlines, MROs, and Lessors. To date, we have successfully recertified and sold over 30,000 PAX.
As we have a storage capacity of 6,500 to a maximum of 10,000 m², we also offer concepts for interim storage and consignment packages for more than 12,000 PAX.
Firmenkontakt und Herausgeber der Meldung:
aviationscouts GmbH
Wendenstr. 40
96215 Lichtenfels
Telefon: +49 (0)9571 947907-0
Telefax: +49 (0)9571 947907-25
http://www.aviationscouts.com
Ansprechpartner:
Filiz Kasim-Herr
Marketing Manager
Telefon: +49 (9571) 947907-22
E-Mail: filiz@aviationscouts.com
Für die oben stehende Pressemitteilung ist allein der jeweils angegebene Herausgeber (siehe Firmenkontakt oben) verantwortlich. Dieser ist in der Regel auch Urheber des Pressetextes, sowie der angehängten Bild-, Ton-, Video-, Medien- und Informationsmaterialien. Die United News Network GmbH übernimmt keine Haftung für die Korrektheit oder Vollständigkeit der dargestellten Meldung. Auch bei Übertragungsfehlern oder anderen Störungen haftet sie nur im Fall von Vorsatz oder grober Fahrlässigkeit. Die Nutzung von hier archivierten Informationen zur Eigeninformation und redaktionellen Weiterverarbeitung ist in der Regel kostenfrei. Bitte klären Sie vor einer Weiterverwendung urheberrechtliche Fragen mit dem angegebenen Herausgeber. Eine systematische Speicherung dieser Daten sowie die Verwendung auch von Teilen dieses Datenbankwerks sind nur mit schriftlicher Genehmigung durch die United News Network GmbH gestattet.